IMPACT ON AIRPORTS
The impact so far has been dramatic, with a number of airports now having zero or near-zero passengers traveling through their terminals. At the same time, airports are working hard to remain open for critical services.
For privately-held airports, the situation is worse as they do not benefit from relief measures but are obliged to continue paying concession fees to governments.
AERONAUTICAL REVENUE
Comprises the majority of airport's income, and includes airline terminal space rentals, airline landing fees, & usage fees for terminal, gates etc. As airline moments are shut, airports are facing major revenue loses but still they have to maintain some fixed costs, salary of few people, sanitization cost etc but where the amount will come from? The only source of income right now the airport's are getting is through landing charges paid by the grounded airlines.
NON-AERONAUTICAL REVENUE
Means income received from hotels, outlets in form of rent, income from advertisements at airport and such other third party services. Currently this source of income is also shutdown for airport due to lockdown imposed by GOI.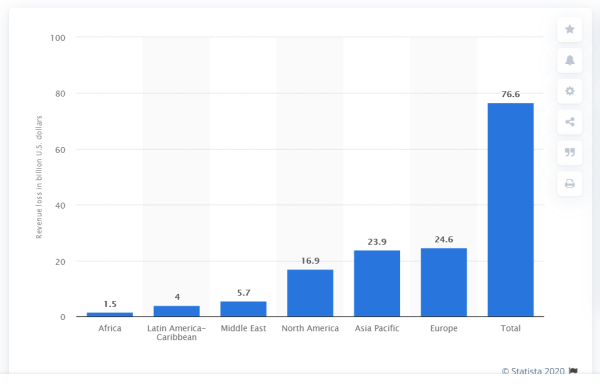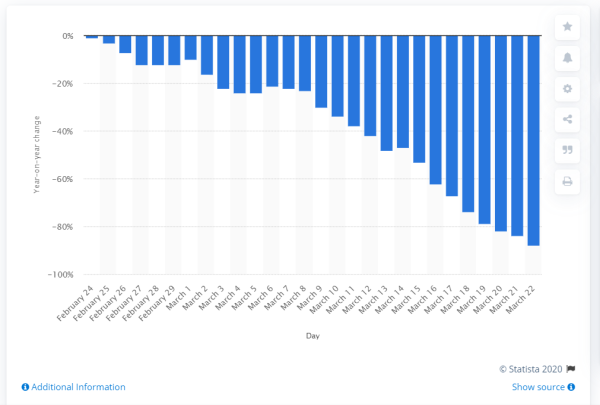 SERIOUS ISSUES :-
The planemaker Airbus has warned that the aviation industry could take as long as five years to recover to the levels seen before the coronavirus pandemic. It could take "three to five years" for passengers to be as willing to fly as before the crisis.
The real problem, executives say, is the number of different countries that have introduced travel restrictions, and the lack of certainty over when those restrictions will be removed.
In order to make money, airlines need as many seats as possible to be filled on every flight. "Load factors" are particularly important for budget carriers, which typically fly with more than 90% of seats occupied. But if middle seats are left unoccupied, aircraft will have to fly just 65% full. This might be acceptable for a short period, If it went on for long, "it would certainly change the way in which the industry operates.
Getting aircraft back in the air may prove to be the easy part. Finding people to fly in them could prove more difficult – and some long-term changes to the aviation market are highly likely.
Q. What happens to the planes when they can't fly for weeks?
ANS-
More than 16,000 passenger jets are grounded worldwide.
Finding the right space and conditions for 62% of the world's planes and keeping them airworthy have suddenly become priorities for 2020.
Aircraft can't simply be dusted back into action. They need plenty of work and attention while in storage, from the maintenance of hydraulics and flight-control systems to protect against insects and wildlife — nesting birds can be a problem.
There's humidity, which can corrode parts and damage interiors.
Even when parked on runways, planes are often loaded with fuel to keep them from rocking in the wind and to ensure tanks stay lubricated.
Parking charges differ from airport to airport. In India, parking alone can cost $1,000 a day for a large aircraft. An airline with a fleet of more than 250 jets, even heavily discounted rates may mean expenses of $12.5 million for a six-month grounding, without taking into account maintenance costs.
Abu Dhabi-based Etihad Airways said its engineers are working around the clock maintaining its grounded fleet, a process that includes,
Running engines and powering up aircraft,
Checking flight controls, and covering sensors
Engines to protect inner workings from sand and dust.
About 200 staff per shift clean plane cabins in hangars, from replacing seat covers to shampooing carpets.
Tires also need attention. All planes from Boeing Co. need to have their wheels rotated — by being towed on the tarmac or jacked into the air to be spun — every one to two weeks
hydraulic fluid is put on the landing gear to protect against rust.
Giant silica moisture absorption sachets are also put inside engines to keep them dry.
As the planes have been grounded for a long duration, upon the reopening of the activities there are high possibilities of accidents taking place if proper measures are not taken such as engine testing, sensors testing, landing gear testing, leakages, etc. This can be considered as one of the major reasons as to why passengers won't choose air travel for a specific period. Along with this Pilots, need time in the air, or in the simulator, to maintain their "ratings", or permits to fly specific aircraft.
REVENUE LOSS
1. IATA said the COVID-19 crisis would see global airline passenger revenues drop by USD 314 billion this year.
2. Airlines in the Asia-Pacific region would record the largest revenue drop of USD 113 billion in 2020 compared to last year.
3. the revenue impact for airlines operating to and from the Indian market would be USD 11.221 billion (over Rs 85,000 crore).
4. With prolonged travel restrictions in place around the world, one of the major challenges faced by the aviation industry is a massive plunge in cash reserves as fleets remain grounded for almost a month now. Many airlines in India are close to bankruptcy as their cash reserves are running out amid the nationwide lockdown
5. Indian airlines are losing about Rs. 75-90 crore daily during the shutdown.
6. Total losses of 3.3 to 3.6 billion dollars to be incurred by the Indian aviation sector, including airlines, airports, and ground handling industry during April- June 2020 quarter.
JOB LOSS
1. Global airlines grouping the International Air Transport Association (IATA) estimates that almost 30 lakh jobs are at risk in the Indian aviation dependent sectors.
2. IATA research calculates that 25 million jobs in aviation and related sectors are endangered across the world: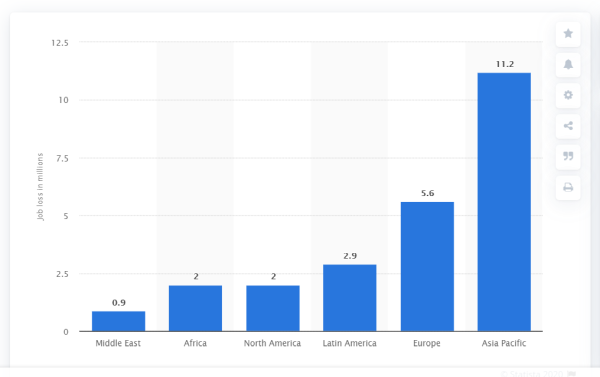 3. British Airways, a major Airbus customer, on Tuesday evening announced plans to cut 12,000 jobs – almost a third of its workforce – in the face of a slump in demand.
4. 700 pilots at American Airlines have agreed to take early retirement.
COST REDUCTION MEASURES ADOPTED BY AIRLINES AROUND THE GLOBE
1. Postponing or canceling discretionary expenditure.
2. A freeze on all non-essential recruitment and consultancy work.
3. Working with suppliers to find cost savings and efficiency.
4. Encouraging employees to take paid or unpaid leave in light of the reduced flying capacity.
5. Discussions with aircraft manufacturers to defer upcoming aircraft deliveries. During the first three months of the year, Airbus was unable to deliver more than 60 planes to customers because of quarantine restrictions. That number is expected to rise as airlines negotiate delays to orders in an attempt to ease financial pressures.
6. Retire the old fleets which have served more than its life.
7. Oil prices have fallen significantly (-$13/barrel Brent) since the beginning of the year. This could cut costs up to $28 billion on the 2020 fuel bill which would be achieved as a result of reduced operations.
FICCI BAILOUT PACKAGE
FICCI – Federation of Indian Chambers of Commerce and Industry
Industry lobby Ficci has sought a bailout package for the domestic aviation industry, including
1. Direct cash support from the government.
2. Interest-free soft loans.
3. A two-year tax holiday to help the sector overcome the Covid-19 crisis.
4. Deferment of term-loans by up to six months.
5. 180-days credit window by the oil marketing firms.
6. Waiving of aircraft insurance premium.
7. It also said that interest, penalties, delayed charges and accruals to airport operators should be waived for the airline companies.
8. Deferment of payment of GST.
9. Financial aid in terms of reduction in airport charges, overflight fees, taxation on passengers on security, waiver on parking and landing fees.
SANITIZATION MEASURES TAKEN BY AIRLINES AROUND THe GLOBE
1. Delta's fogging process: The process, which Delta had introduced on international lights in February, uses a fog machine to spray an aerosol-based high-grade disinfectant that coats all surfaces in the cabin, including the ceiling, floors, seats, trays, lavatory, galleys, and crew areas. The disinfectant sticks to surfaces as soon as it's applied.
2. Bipolar ionization technology: Bipolar ionization technology from AtmosAir is now being installed in the HVAC systems of some airports. This technology neutralizes viruses such as coronavirus and other contaminants in the air and on surfaces. (The V in HVAC, or ventilation, is the process of replacing or exchanging air within a space.)
3.Switching seats for social distance allowing passengers to switch seats based on distance, either y making seat changes at the gate, or simply announcing passengers may choose their own seats.
For example, in a social-distancing advisory, Alaska Airlines stated that when passenger numbers prevent social distancing passengers will be aided in rebooking to an emptier flight.
4. Flying while sick: Airlines have instituted flexible policies that allow passengers who are beginning to feel sick to cancel or reschedule their flights.
5. Aviation giant Emirates has launched a 10-minute coronavirus blood test for passengers departing from its Dubai home base, in what it claimed Wednesday as a first for the industry. This will enable them to conduct on-site tests and provide immediate confirmation for Emirates passengers traveling to countries that require COVID-19 test certificates.
STRATEGIES ADOPTED BY VARIOUS AIRLINES
1. IndiGo, have opted for the credit shell strategy instead of refunds. India's biggest airline is creating credit notes for every canceled ticket, which flyers can redeem later any time up to a year.
2. Go Air is offering passengers of a cancelled flight the option to even change destinations at a future date. Passengers, however, will have to pay the fare difference, if any.
3. Lufthansa is already operating services where middle seats are left unoccupied in order to allow a certain degree of social distancing on board.
4. Airlines are offering attractive fares to woo customers on their flights from next month. SpiceJet is selling a one-way ticket on 16 May from New Delhi to Mumbai for as low as Rs. 2,500 while a Bengaluru to New Delhi flight on GoAir costs Rs. 3,164.
5. Allow temporarily airlines to issue vouchers instead of immediately reimbursing cancelled tickets, possibly ensuring a mechanism of guarantee in case of insolvency, and to even apply a similar instrument to all types of transport.
How the industry serves that growth, as it evolves out of the crisis, will depend on five key factors:
1. The volume will probably not regain its peak for at least 3-5 years depending on the distance segment.
2. Pricing recovery will lag volume recovery by at least a year.
3. Business travel will recover more quickly than leisure travel but at a permanently lower level.
4. Long-haul narrow-body aircraft will change the nature of international networks by replacing hub and spoke models with point-to-point flying.
5. Regional travel will move from an expensive business-oriented model to a cheaper leisure-oriented model.