Our favorite burger can also be a great business. Get all the information related to this business from Tapan Brahmbhatt, Founder of Tummy Tikki Burger.
Be it a long drive or a birthday party, people all over the world including India have the most favorite fast food – Burger. Due to this love of the people, it has also become a great business. The best part is that it's so easy to make and serve that you can get started with little investment, like Tapan Brahmbhatt from Ahmedabad did.
In the year 2018, he started this work on his Bullet by spending just Rs 700 and today he is earning two lakh rupees a month from his business 'Tummy Tikki Burger'.
Let us know from them how to start this business and what kind of marketing plan can make it a hit business.
1. How did the business idea of ​​burger come about?
Tapan- "In the year 2018, a new trend of online food delivery started. At that time I was in the last semester of college and we used to enjoy ordering whatever we wanted. But sometimes the quality of the food was very bad. My family has a hotel business in Ambaji (Gujarat), so I thought I can make better quality food out of it. That's when I thought I should join the food business so that youngsters like me can get their favorite fast food with great taste."
* If you want to work on taste in the food business and if you are ready to work day and night, then you must work on this idea.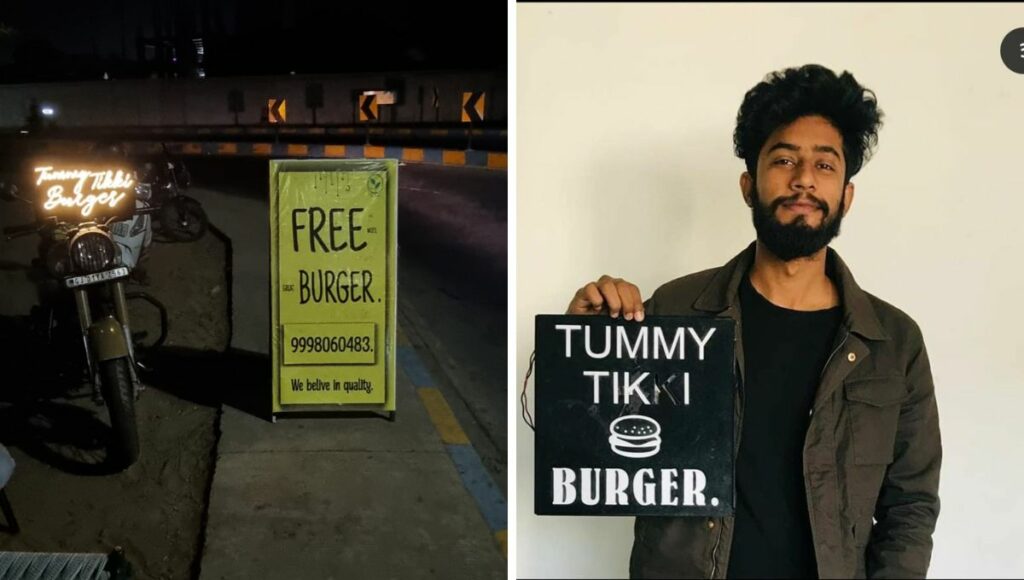 2. How to do research for the burger business?
Tapan- "The best thing about this type of fast food is that the raw materials used to make it are easily available in frozen form. I just went around the shops in my city to find out where the best and cheapest raw material is available. Apart from this, another part of the research was where to start the work. There are many Khau Galis in Ahmedabad, where many food and drink items are available. That's why I had to take care that I start my work in such a place where there are more people and food shops are fewer. I started with this kind of basic research. 
* Before starting the food stall, it is very important to see where you are starting the work. The location has a huge impact on sales." 
3. How much was the initial investment?
Tapan- "I started with very little investment. On the first day, I had invested around Rs.700, in which I had bought buns for Rs.8. The tikki was around 10 rupees and the rest of the mayonnaise and stuff cost 10 rupees. Instead of an expensive fryer, I used a homemade pan to fry the tikkis. In this way, a total of 30 rupees was spent on making me a burger. On the first day, I made only 20 burgers and took them away in a thermocol box. 
"The second investment is the shop etc., but I made my bullet my shop and took my burger to sell it. That way I didn't have to invest any huge capital."
* Even if you don't have a bike or bullet, you can start selling your product through your WhatsApp group. In this way, you will be able to start work with less investment.  
4. What did you do for marketing?
Tapan- "I did not spend anything separately for marketing. Neither a billboard nor banner nor any visiting card was made. I used to go directly to groups of people and talk to them about my startup. Later, I used to treat them to burgers. I also used to say that if you like the burger, then only give money and if you don't like it, then give a suggestion. That's how I sold my first burgers and that's how I do face-to-face marketing today." 
"After a while, when I bought a fridge with my earnings, I started promising people 24/7 burger delivery. Because now I could store my raw material and when the order came in, I could prepare it and deliver it to the customer.
"That's where another great marketing idea came to me from the big commercials. Below the big offer, it is written in small letters that condition applies means conditions apply. On the lines of this, I put a board of free burgers near my shop, in fact, it did not have the free burger but there was Wi-Fi, and people used to come after reading the name of free and go after eating a burger. This allows me to comfortably handle 30 customers a day." 
Marketing is a continuous process. You should do something new in your business from time to time so that people stay connected with you in one way or the other. If you are doing online business, then keep sharing posts and reels every day.  
5. How to fix the price of your burger?
Tapan- "You must keep a margin of at least 50 percent to give the best quality to the customers. I did the same. The burger I used to make at that time was prepared for Rs.30, the price of which I kept at Rs.60. In the beginning some people used to give 50 also. But if you maintain the quality, people will definitely pay the right price. Currently, after Corona, I have started selling my burger for Rs.69. 
* It is right to fix the price of your product by adding 50 percent profit after raw material. This will increase your chances of making profits in the future and you will also be able to maintain the quality of your product.
6. How much profit do you earn?
Tapan- "For about three-four years, I used to make burgers from home and sell it on Bullet only. Where earlier I used to take only 20 burgers, but after a few months I started taking 50 burgers. Many people used to call me for orders, which I used to deliver myself. It was only after building a good customer base this way that I took a shop on rent."  
"Today, I pay Rs 25,000 as shop rent and sell around 250 burgers every day for Rs 69. In this way, I am earning a profit of two lakhs every month. 
So if like Tapan, you are also ready to work hard, then the burger business is a good option, from which you can earn handsome profits. 
Hope this information will be of use to you. Be sure to watch this video guide for more burger business tips:
Video Guide