"Mera Aadhaar, Meri Pehchan." Today the Aadhaar card has become an absolute necessity for unhindered livelihood in India. Be it opening a new bank account, getting a second mobile number, applying for your passport or even submitting your ITR, the Aadhaar is the single largest proof of identity, residential address or even citizenship in this country. Does this mean that one must have his Aadhar card on him at all times? We would say Yes, but, it is definitely not mandatory to have it in the physical form.
The Supreme Court of India and the Unique Identification Authority of India (UIDAI) has mandated that the validity of an "E-Aadhaar" is the same as of a physical Aadhaar Card.
E-Aadhaar is a password protected pdf copy of your Aadhaar Card signed by the UIDAI. One can easily download the soft copy of his/her Aadhaar from the UIDAI Website. The following step-by-step guide will take you through the entire process of obtaining your E-Aadhar, which comes in a PDF Document, from the UIDAI Website.
| | |
| --- | --- |
| 1. | How to download Aadhaar from the UIDAI website? |
| 2. | What is Masked Aadhar? |
| 3. | What is e-Aadhaar? |
| 4. | Is E-Aadhaar valid proof? |
Step 1: Go on UIDAI Website
You must find and go on the UIDAI website. This can be done through searching "UIDAI" or "UIDAI website" on your preferable search engine, such as Google, Bing, Yahoo, etc. Moreover, you can use this link: https://uidai.gov.in/ to visit the website.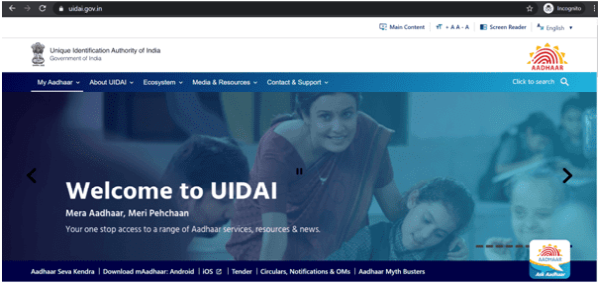 Step 2: Click on "My Aadhaar" Tab
"My Aadhaar" is the first tab you will see on the navigator of the UIDAI website. Hover your cursor over "My Aadhaar", you will see a dropdown menu with different categories, the option to download Aadhaar is available under the "Get Aadhaar" category.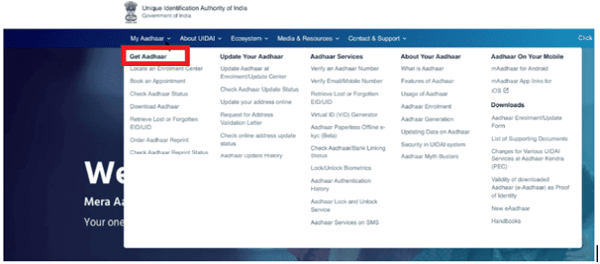 Step 3: Click on "Download Aadhaar"
Once the drop-down menu becomes visible, click on the "Download Aadhaar" button. This will take you to the webpage for the procedure of downloading your Aadhaar.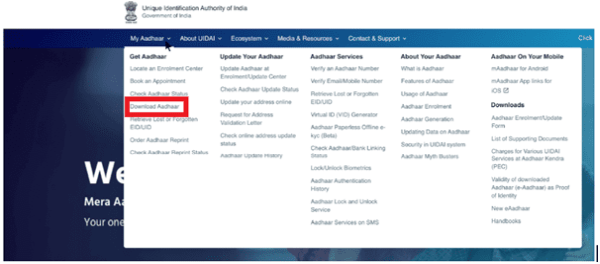 Step 4: Enter ID to download your Aadhaar
Once you arrive to the Download Aadhaar page of the UIDAI website, you must enter your relevant number or ID to proceed. You can either enter the default 12-digit Aadhaar Number, or Enrolment ID Enter with 14-digit ENO and 14-digit Date-Time stamp printed on the Enrolment Slip, or 16-Digit Virtual ID Number. Only numbers can be entered in this field.

You can also request a Masked Aadhaar, which is an option that "allows you to mask (hide) your Aadhaar number in your downloaded Aadhaar," specifically the first 8 digits, out of the 12.

Next, you must complete the captcha to verify you are not a bot, but a real human being.

Step 5: Request for OTP OR TOPT
After you have completed entering your details and completing the captcha, you will need to click the "Send OTP" option to receive an OPT (one-time password).
Note: OTP is only available for ten minutes, so have your phone on standby while completing the form. If the OTP expires, you will have to restart the whole procedure.
Additionally, you could also choose the TOPT option. For this, you must have mAadhaar, which is the Aadhaar mobile application. You will receive an 8-digit TOPT (time-based). Because of this time variable characteristic, it is called TOTP.
TOTP is personal to the resident and is uniquely generated every 30 seconds for each resident separately. .
Step 6: Download your Aadhaar
Once you have received the OTP, enter it in the given field. You will also be given a survey to be completed, while your request is being processed. Once your request is fully processed, you can verify and download your Electronic Aadhaar, or e-Aadhaar.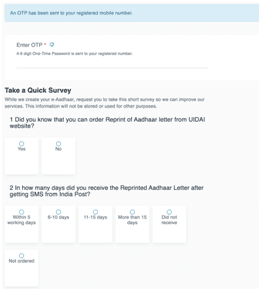 As informed on the UIDAI website, the file you will download will be password protected.
Your password is a "combination of the first four letters of your name (as in Aadhaar) in CAPITAL letters and Year of Birth in YYYY format."To provide an example, if your name (on your Aadhaar) is Mohan Sharma, and your birth year was 1987, your password will be: MOHA1987. Once your password is entered, you will have complete access to your e-Aadhaar.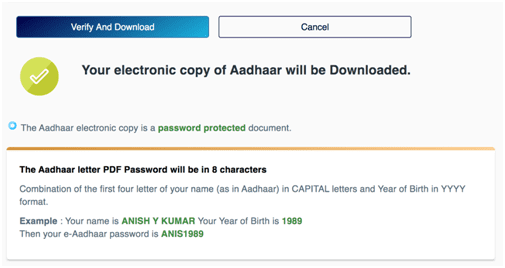 References
Uidai. (n.d.). What is Aadhaar? – Unique Identification Authority of India: Government of India. Retrieved March 28, 2020, from https://www.uidai.gov.in/16-english-uk/aapka-aadhaar/14-what-is-aadhaar.html
Uidai. (n.d.). Home – Unique Identification Authority of India: Government of India. Retrieved March 28, 2020, from https://uidai.gov.in/