Sachin Kothari left his corporate job and moved to Dehradun to start Devbhoomi Nursery, today selling more than 20 varieties of flowers and vegetables.
You will find countless people who have left their villages and settled in cities. But there are few people who say goodbye to the glittering city life and good job and return home. In fact, they don't like the stressful city life after the peace and atmosphere they get in the village. Dehradun-born Sachin Kothari also did something similar.
He was living a dream life by doing a corporate job for many years. Where there was money and respect too. If there was nothing, there was no peace of mind, to get which he left everything and returned to Dehradun and came here and started a nursery.
Speaking to The Better India, he says, "I worked in the corporate sector in Delhi from 2008 to 2011 and changed four companies during this period. Every time better company and better pay than before. Then I realized that in my busy, stressful business life, no matter how many companies I changed, nothing had ever changed and probably never would."
Where did you get the inspiration to start Plant Nursery?
33-year-old Sachin was a management professional. He says that companies keep changing, but the way of working remains the same. He states, "Busy routines, boring work hours, weekend meetings and a chaotic sedentary lifestyle. Most hours of my day were spent staring at the laptop. Running after a never-ending goal was taking its toll on my health."
Sachin soon realized that he was not cut out for corporate life. He said, "I started looking for alternatives. I was greatly influenced by one of my relatives. It has a plant nursery in Dehradun. I spent most of my free time with him in the plant nursery and loved the job as a profession." Today Sachin is earning lakhs of rupees due to this business. There is neither a race to meet targets nor a stressful life.
Today he is very happy doing the work of his choice. But was it easy for Sachin to quit his job and start a plant nursery? Maybe not.
His first attempt at starting a plant nursery was a complete failure. However, it was only after much research that he started working on a plan for a plant nursery. But there was something that caused him to despair. Says Sachin, "Before I started, I collected a lot of information about the area. Then I hired a friend to work with me. He had land, and we both decided to invest Rs.6 lakh in our business."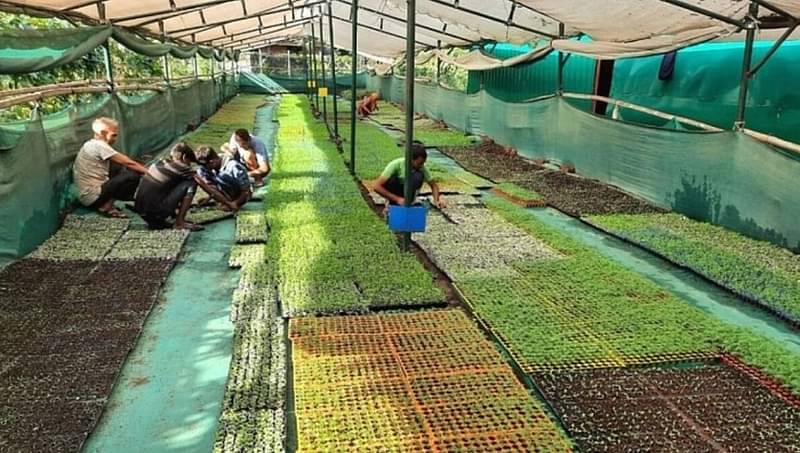 A friend left
He recalls, "I had Rs 1.5 lakh. Borrowed the same amount from my father and gave Rs 3 lakh to my friend and thus we started 'Devbhoomi Nursery'. In the year 2012, I quit my job and started devoting my full time to the nursery. He had neither experience nor proper guidance and support from anyone. They both failed in their first attempt.
Their plants were dying. They were unable to identify the mixture of soil, cocopeat, and compost required by the plants. The business was going out of his hands. Seeing this, his friend raised his hand and left his side. Now Sachin had to handle everything single-handedly. Seeing the situation, his parents also started asking him to find a job again and return to corporate life.
Sachin said, "I was not ready to give up my dream. I consulted my relatives and experts. Apart from that, through the internet, learned about plants, suitable environments,s and fertile soil mix to grow them. I was left with no other option."
100% Profitable Business Model
Sachin spent the next three years restarting and nurturing his plant nursery. He said, "I learned a lot while working. I started making seedlings from seeds and then planting them in pots. I relied on pesticides to keep pests away from plants. In 2015, I rented land in Sarkhet, 15 km from the city. After some time he also bought a 1500 square feet place of his own. Now I could build a new team of my own and hire assistants."
Today, he sells more than 20 varieties of flowers like calendula, petunia, osteospermum, and pansy, as well as vegetable seedlings like broccoli, tomato, bok choy, brinjal, and cauliflower, earning him Rs.30 lakh annually. He says the plants are in high demand in neighboring cities like Saharanpur, Ghaziabad, Chandigarh, Delhi, Jalandhar, Ludhiana, and Amritsar.
Despite the challenges of adverse weather conditions, pests, and plant infestation, they have managed to make their business a 100% profit model.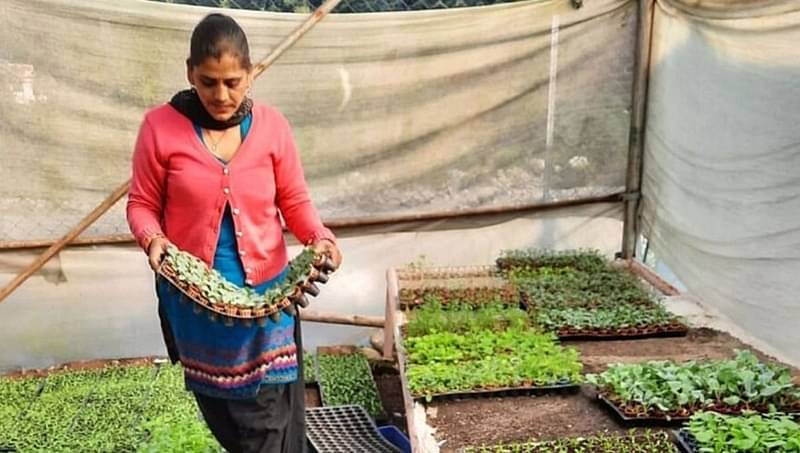 "I thank myself every day"
Sachin said, "Initially the rate of plant failure due to fungus, infection, and other diseases was very high. This is still happening. But today I protect my plants from all this. Consumers want to buy healthy plants and good monitoring and careful care of each plant not only gives expected results but also helps in their growth."
Him, initially, he faced challenges in raising money and even taking loans for the nursery. But seeing his success today, it can be said that his decision to quit his job and start afresh was the right one. Today, leaving behind that stressful life, he is living in the midst of nature, doing the work of his choice and living a peaceful life.
He says, "Today I have paid off all my loans. I have both land and a car and for this, I don't need to go to the office every day and work under stress for hours. I am living a luxurious life in a clean environment earning lakhs every month." Sachin adds, "I'm glad my life doesn't revolve around a laptop. I have no regrets and thank myself every day for the decision I made."
Original article: Himanshu Nitnavare
Editing: Poonit Rathore